The dB sensitivity control on the input RTA view gives you the ability to adjust the reference of the input allowing the user to optimize their viewing experience.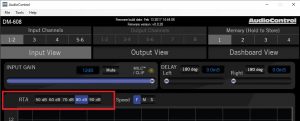 You can think of the Db sensitivity control as a zoom function. Depending upon how high or low the incoming signal is, you can zoom in and out in order to be able to see the frequency spectrum accurately. The goal is to get the signal all floating roughly in the middle of the graph. For example, if the signal coming in is a bit on the low side, you would bring the db reference lower(zooming in), if the signal is a bit on the high side, you would bring the db reference level higher(zooming out).
Below are some screenshots illustrating the change. The same signal at the same level, no audio is being effected, just the way it is being shown. For the signal coming in for this example, 70 db is the best choice. You can accurately see all frequencies in relationship to each other. There is a lot of bass on this track. But, if you were to use the wrong reference level, say the 50 db version, you would think that there is way too much signal across all frequencies.
Reference at 80 db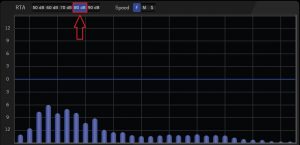 Reference at 70 db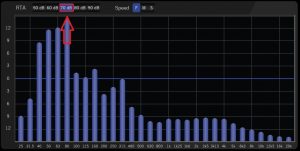 Reference at 60 db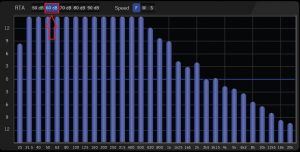 Reference at 50 db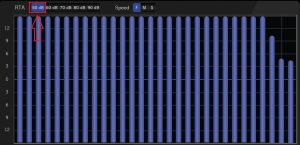 For more information about the input view of the DM Smart DSP, check out our tutorial video: