There are a couple of things to confirm to ensure the DM Smart App installer will open on your computer. The most common reasons are that you downloaded the 64-bit installer, but you have a 32-bit computer, your computer does not have the necessary .net framework to run the application and you need to install that first, or it could be as simple as you need to unzip the folder before you can run the installer.
To make sure you've properly unzipped the folder, follow these steps:
When it first downloads to your computer, it is in a zip file. Make sure you right click on the downloaded zip folder and select "extract all". It will then extract the files within the zip folder and create a new folder in the same location where the zip folder is located.
From there, open the folder and double click on the installer.
64-bit vs. 32-bit:
If it still won't open, the next thing is to double check whether your computer is running on a 64-bit or 32-bit operating system. The installer on the product page of the DM-608 and 810 is a 64-bit installer. If you try to install this on a 32-bit computer, it won't work.
If your computer was made in the past 3 to 5 years, it is most likely a 64-bit computer. If it is older than that, you will probably want to check to see if your computer is 32 bit or 64 bit.
The easiest way to figure that out is to go to your start menu and select "system". You should be able to find this thru the control panel, select "system and security" and then "system" A window should pop up that looks something like this: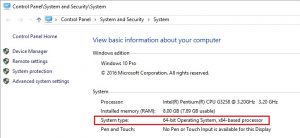 If you discover that your computer is in fact a 32-bit system, delete the 64-bit installer and download the 32-bit installer here
Do you have the proper .net framework installed on your computer?
If you have an older computer that isn't running the latest Windows operating system, it could be a simple matter of downloading some specific library files in order for the computer to properly operate the DM Smart App.
This is common on some older computers still running Windows 7.
If you get a message stating you are missing .net libraries, or something to that effect, it should give you an option to click a link to the Microsoft website where you can then download these files.
If none of these scenarios help you in getting the installer to run, you can reach AudioControl tech support here.