All AudioControl car amplifiers have the capability of bridging amplifier channels together to deliver more power to your speakers. 
Bridging amplifier channels combines a stereo pair of channels into a single mono channel. In car audio applications, bridging is often used to provide more power to sub-woofers or larger full range speakers. 
Please refer to the Car audio amplifier section of our website for each amplifiers bridged power output and ohm load specifications, Car Amplifiers.
To bridge amplifier channels connect the positive (+) and negative (-) leads of your speaker cable for the single speaker to the INNER positive (+) and negative (-) terminals of the speaker connector. There are indications above the speaker connectors (with an asterisk) showing which terminals to use.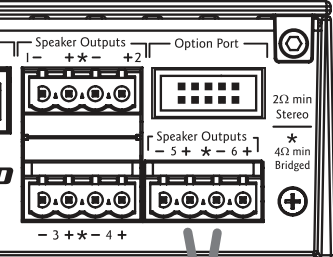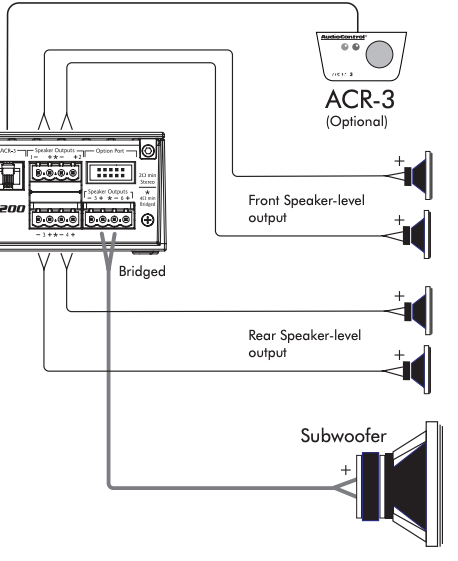 After connecting your speaker cables for bridging, you will need to set a Stereo/Mono switch to mono to sum the channel inputs. On the D series DSP amplifiers the Mono button is in the Output View of the DM Smart DSP software, select it so it is highlighted. On the LC series amplifiers the Stereo/Mono switch for each pair of amplifier channels is on top of the amplifier, slide this to the Mono position for the channels you are bridging.
NOTE: The AudioControl LC series of dedicated mono-block subwoofer amplifiers deliver much higher power than our multi-channel amplifiers do in bridged mode, these subwoofer amps are stable down to 2 ohms. Definitely recommended for larger single subwoofer speakers or in systems with multiple or dual voice coil subwoofer speakers. 
LC-1.1500 – 1500 watts at 2 ohms, 850 watts at 4 ohms. 
LC-1.800 – 800 watts @ 2 ohms, 500 watts at 4 ohms.
If you need additional assistance please contact our technical support at 425-777-7723. Support is available Monday – Friday from 8am to 5pm pacific standard time.